Invite Mindfulness Into Your Everyday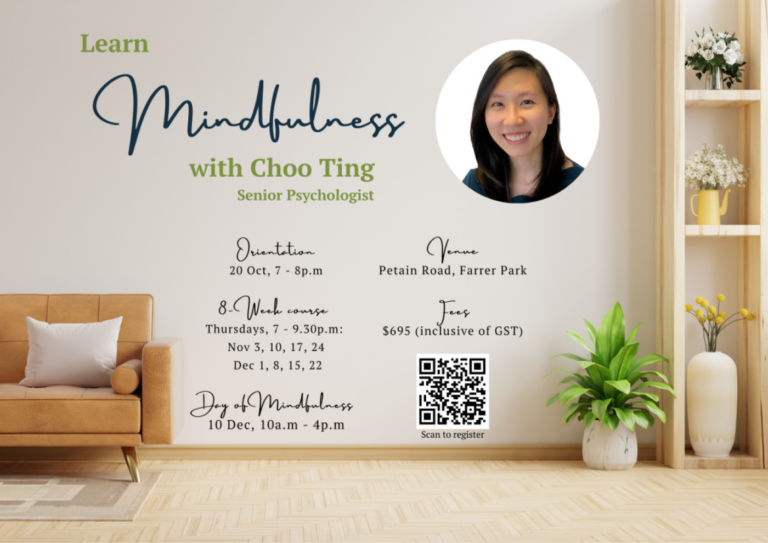 Mindfulness-Based Stress Reduction (MBSR) is an 8-week empirically-supported programme that offers secular mindfulness training. Developed at the University of Massachusetts Medical Centre by Professor Jon Kabat-Zinn in the late 1970s, MBSR uses a combination of mindfulness meditation, body awareness and exploration of patterns of behaviours, thinking, feeling and action. Through non-judgmental acceptance and curious investigation of the present experience, the programme teaches mindfulness meditation skills as a way to develop a different relationship to stress, and to live each moment of our lives as fully as possible.
Extensive published research has demonstrated that the programme has beneficial effects, including reduction in emotional exhaustion, psychological distress, perceived occupational and personal stress. It was also associated with improvements in personal accomplishment, focus and clarity, self-compassion, sleep and relaxation. Since its inception, thousands of people have benefited from it. Regular practice allows one to develop wisdom, including equanimity and mindful attention to everyday events. If you are looking to live the full depth and beauty of your life, and to experience greater fulfillment, this is the course for you.
Orientation: 20 Oct 2022 (7 – 8 pm)
8-week course: Nov 3, 10, 17, 24, Dec 1, 8, 15, 22 (7 pm – 9.30 pm)
Day of Mindfulness: 10 Dec (10 am – 4pm)
Venue: Venue: Private Space Medical / Haven @ Petain Road (near Farrer Park MRT)
Price: $695 per person (inclusive of GST)
Choo Ting started on her Mindfulness journey in 2013, while studying in Australia. A skeptic when she first began, she is now a regular practitioner of Mindfulness after experiencing the benefits in her own personal and occupational life. She has completed her MBSR Teacher Training under UCSD Centre of Mindfulness.
With almost a decade of experience as a Clinical Psychologist in SingHealth hospitals, Choo Ting journeyed with many clients through their recovery from depression, anxiety, OCD and trauma. She regularly incorporates Mindfulness in her work with clients to help transform and improve their lives. Choo Ting had also conducted several Mindfulness-based group programmes within SingHealth and other external organisations.
The course is open to all and invites anyone who would like to live a life with less stress and more awareness. Beginners are welcome. No prior knowledge or, or experience with, mindfulness practices is required. If you have any acute or chronic mental or physical illness, a conversation with your course guide (via email, phone, or face-to-face) will be arranged to determine whether this course is suitable for you. Mindfulness guide may recommend alternative sources of help (e.g., therapy, medications) if this is deemed to be more appropriate and beneficial. In such cases, a full refund of the course fee will be given. MBSR is not a replacement for individual therapy; it is not meant to be a "quick fix" for problematic behaviours. Rather, it offers an opportunity for clients to learn alternative ways to relate to their stresses.
Through this programme, you will get to
Understand the difference between stressors and stress, consequences of stress, and different ways of reacting towards stressors
Learn about what mindfulness is, including the relevance of attention, intention, and attitudes of mindfulness
Experience a variety of formal and informal mindfulness practices to increase awareness and reduce and prevent stress
Develop a personal practice of mindfulness
The MBSR course consists of 8 weekly sessions of 2.5 hours per session, and an all-day retreat between the sixth and seventh sessions. An Orientation Session will be held before the course commences, and prospective participants are encouraged to attend the Orientation Session to explore if the course fits their needs. Participants are expected to commit to at least 6 out of the 8 sessions, as well as daily home practice of approximately 45 minutes.
Formal and informal practices: In each class participants will learn about and practice different forms of mindfulness including formal practices of yoga, sitting meditation, body scan, and walking meditation as well as informal practices such as mindful eating, speaking and listening, and mindfulness of daily activities.
Topics covered in class: Participants will learn about stress, and explore the habitual, automatic behavioral, physical, emotional and cognitive patterns as well as investigate, in detail, more effective and skillful responses to the challenges and demands of everyday life. In parallel, we'll also be exploring what it means to take care of ourselves and flourish, how to relate to ourselves and others more effectively and what it might be like to nourish behaviors and activities that express our innate capacity for wellbeing.
Recordings for Home Practice: Participants will receive Mp3 downloads with guided meditation and yoga practices and a home practice manual, weekly handouts and email/online information with each week's formal and informal practice/ assignments.
Join us in inviting Mindfulness into your every day. Enrolment starts now. Click
here